Teaching Credential Validation
To comply with accreditation standards, UNM is required to document what qualifies each instructor (faculty, part-time instructor, etc.) to teach every course they instruct. There are three alternative ways to demonstrate qualification: via an advanced degree if in an area specifically related to the area of instruction; via 18 hours of graduate coursework related to the course of instruction; or via "other qualifications" such as research/scholarly work in the subject area, related work or professional experience/licensure, certifications, honors, awards, other demonstrated competencies and achievements. External accrediting agencies require this reporting.
---
Online Form Link
Teaching Credential Validation Online Form
Note: Chrome or Firefox is best, unofficial transcripts are not accepted.
---
Timeline
August 2018
Presented Teaching Credential process at Dean's Council
September 2018
Memo to Colleges: Implementation of Teaching Credential process 
October 2018
10/19/2018 Deadline to submit Teaching Credentials for all new hires and returning Adjunct Faculty for Fall 2018, ongoing for future hires.
 February 2019
UNMJobs updated to capture Teaching Credential type and course levels 
---
Form Instructions
Applicable to all new hires, and can be used to credential current/returning adjunct faculty.
Submissions are sent to OFAS where they are evaluated for completion.
Supporting documents are saved to MS OneDrive and organized by college and department.
Complete each relevant form sections:
Academic Degree - advanced degree if in an area specifically related to the area of instruction 
Academic Coursework - 18 hours of graduate coursework related to the course of instruction
Other Qualifications/Credentials - research/scholarly work in the subject area, related work or professional experience/licensure, certifications, honors, awards, other demonstrated competencies and achievements
Course Level - captures the course level eligible to teach
Note: Ensure all documents are attached- SSN and DOB year must be redacted
Demo video: Completing Teaching Credentials for faculty with a Terminal Degree
---
Submissions by College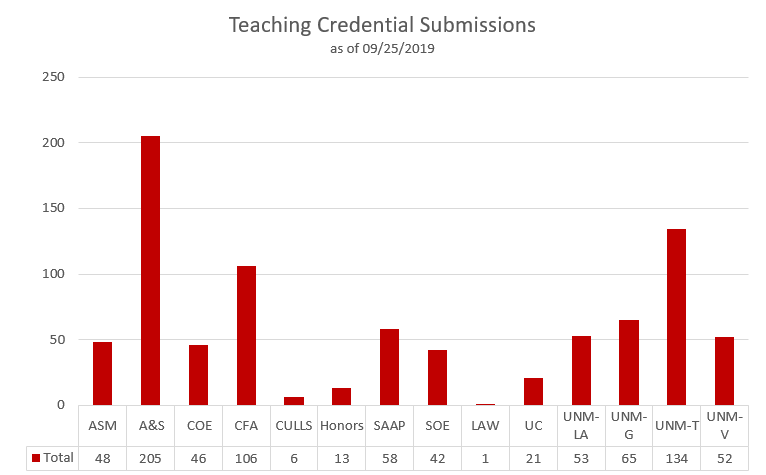 Related Links