Onboarding
There are two process flows for onboarding new faculty.
Phase 1
allows for the creation of a NetID and university email in advance of the hired faculty being physically on site. 
Creation of a NetID is contingent on an applicant accepting an offer letter and subsequently completing the Employee Demographic Form via UNMJobs, and an overnight load in banner. Once OFAS processes this information the newly hired faculty will receive an email with their Banner ID and instructions to set up a NetID.  Part of preprovisioning for incoming faculty will activate the following:
Services and Privileges 

(Ys indicate automatic eligibility for service or privilege.)

NetID

LoboMail

LoboCard

Computer Pods

Lobo Cash

Univ Libraries

HSC Library

Learning Central

Y

Y

Y

Y

Y

Y

Y

Y
Phase 1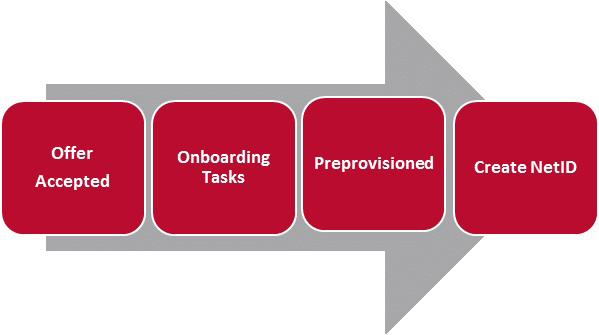 ---
Offer Accepted
Onboarding Tasks
Preprovisioned
Create NetID
Phase 2 begins when the hire arrives to the University and completes the I-9 verification process. We are required to physically inspect and verify your information and documents in-person. Because the University remains in limited operations status, due to COVID-19, to protect the health and well-being of all Lobos, alternate arrangements are in place to complete the final step (verification of identity) of the hiring/on-boarding process. Upon receipt of a hire's completed I-9, they will be sent a Microsoft Booking link to schedule a 10-minute meeting. Keep in mind, we are adhering to all COVID-safety practices while on-campus and the hire will be expected to remain in their vehicle while we complete the inspection process. The hire will receive a confirmation email of their appointment and a map will be provided. Once all documentation is received and certified, the job is created in banner and access to complete a W-4 and direct deposit is available within 48hrs of the start date.
We also need them to add a link to the pdf map that they have in the text map. This is to assist with adding the link to booking and we should have this updated for new hires.
Phase 2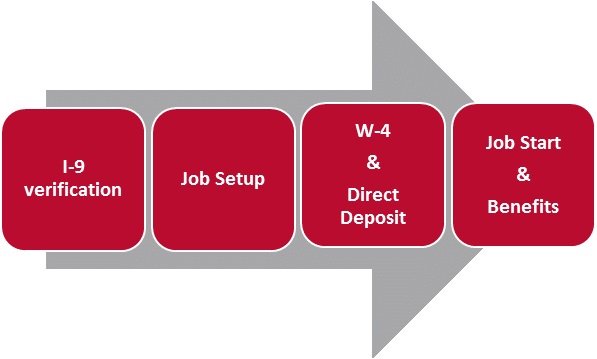 ---
I-9 Verification* 

Job Setup
W-4 & Direct Deposit

Job Start Benefits
*If new employee is not on-site a remote I-9 verification may be requested, email faculty@unm.edu, enter the subject line Request for remote I-9 Verification with the applicant's name and requisition number and an OFAS staff member will coordinate the completion of the I-9.